2021 China International Textile Yarn (Spring & summer) Exhibition held its grand opening ceremony.
---
  As the warm wind blowing gently and flowers blooming brilliantly, "2021 China International Textile Yarn (Spring & summer) Exhibition " held its grand opening ceremony.
  GENERTEC CTACELL
  The new upgrade of Green Technique
  All-round layout
  Sustainable green fiber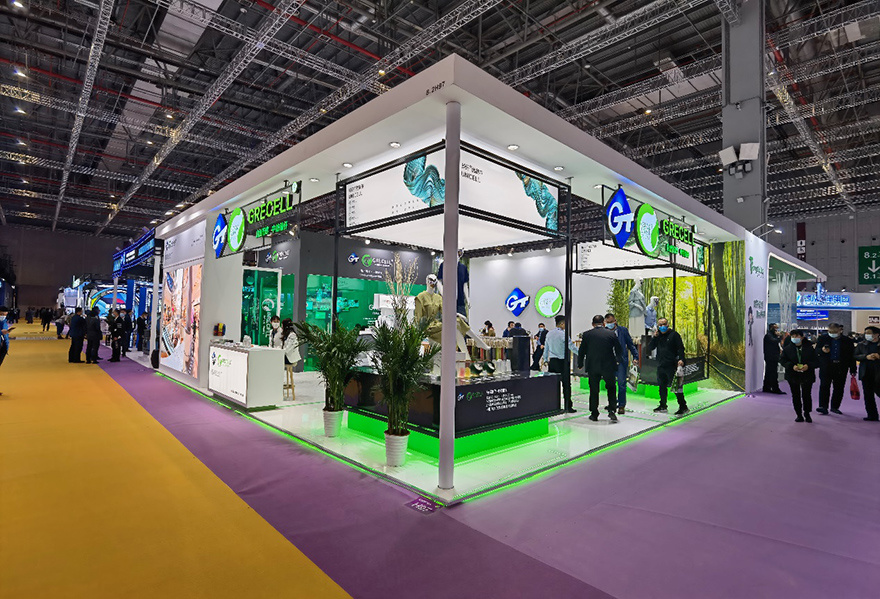 China Textile Academy Green Fibre Co., Ltd (CTACELL) of GENERTEC possesses the first complete equipment which designed and manufactured independently in China, with all technologies of it.
  The CTACELL is also the first Chinese company which holds all independent intellectual property rights of Lyocell Fiber. The superior production capacity, 90,000 tons of G-FIBER® per year, makes this company become the first in China, and the second all over the world. G-FIBER® technology is the achievement of generations of scientists and engineers from CTA. And the BBCELL®, UNICELL and FILAMENT the perfect combine of the CTA's research breakthrough and CTACELL's industrialization.
  A large number of our everyday clothings are made by polyester that is also called as PET. Such material is produced by nonrenewable oil, which means its production is limited by the shortage of raw materials. Besides, the polluting by-products such as marine microplastics keep endangering marine lives as well as humans. What's more, the dirty water and gas generated in production also polluting environment heavily.
  On the contrary, as the newly developed green fiber, G-FIBER's raw materials are sustainable. Because the raw materials are renewable resources like woods and bamboo. The production of G-FIBER is environmentally friendly, and G-FIBER itself is degradable. These features of G-FIBER make itself meeting the needs of sustainable development, and the most promising fiber.
  (Mr. LIU jian, Deputy General Manager of GTAM)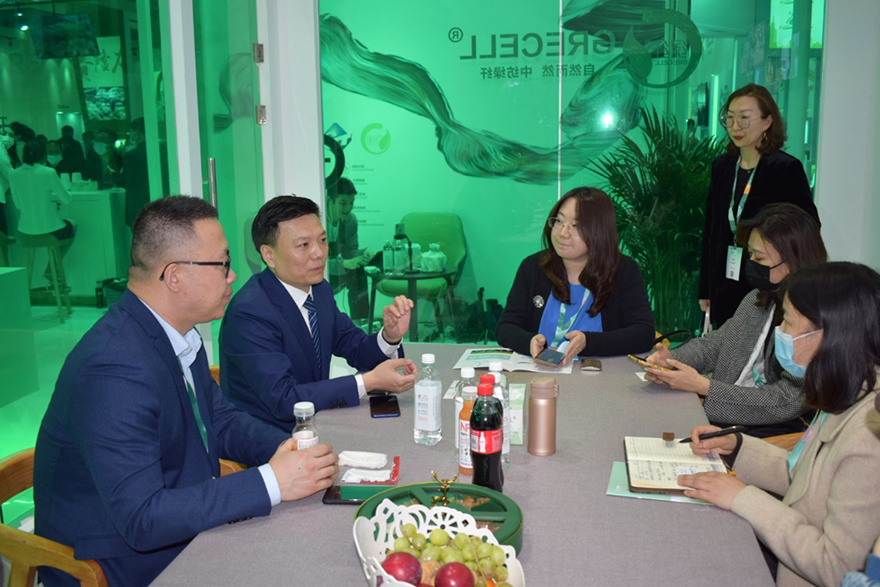 Q: What is BBCELL®?
  A: It's a kind of G-FIBER® which use bamboo pulp as raw material. BBCELL® produced in wet spinning process of lyocell、fully loop process technology. The recover rate reaches 99.7% or more. The production process doesn't generate any waste water or gas, which is clean and pollution-free. G-FIBER® can be completely biodegarable under natural conditions. After testing, the natural degradation rate of BBCELL® can reach more than 99% in 40 days. Its textiles are degraded through recycling and return to nature.
  Q: Why we use bamboo as raw material?
  A: Bamboo is a natural resource with Chinese characters, rich in resources, with strong adaptability and high survival rate. The self-repair ability of bamboo is superior, which means we can promote the growth of new bamboo even after felling. The "self-sufficiency" model solves the problem of lyocell's dependence on rew material's import.
  Besides, bamboo contains "Bamboo quinone", a kind of antibacterial substance, which makes it have natural antibacterial, anti-mite and anti-odor drug properties. At the same time, bamboo contains a small amount of sodium copper chlorophyll, so that it has natural, safe and excellent UV absorption capacity.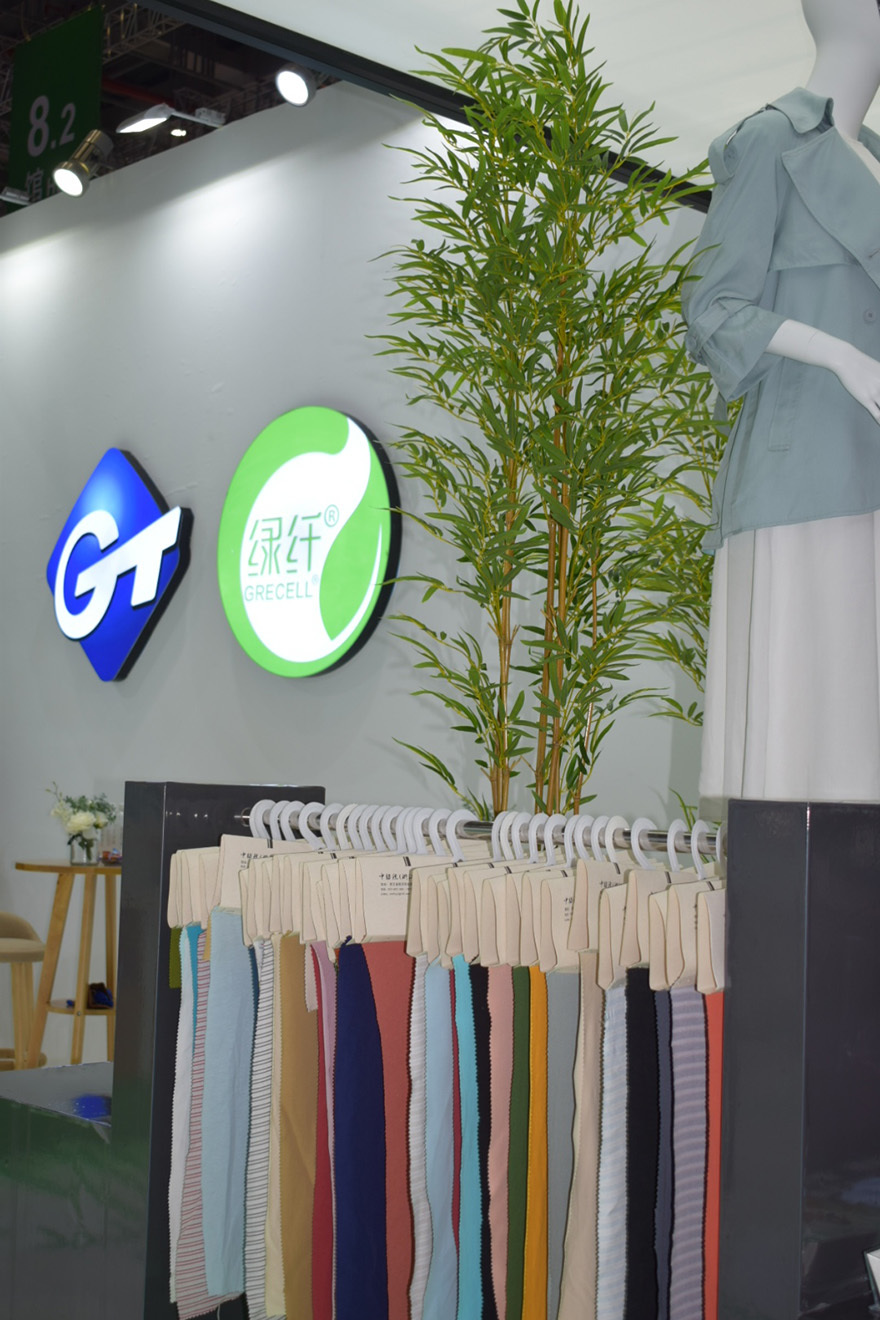 GENERTEC·CTACELL appears at the "2020 China International Textile Yarn (Autumn & Winter) Exhibition", creating a beautiful life with fashion, technology and green.
  From September 23 to 25, the 17th China International Textile Yarn(Autumn & Winter) Exhibition was held in Shanghai National Convention and Exhibition Center. At the exhibition site, GENERTEC·China Textile Academy Green Fibre Co., Ltd showed G-FIBER· LYOCELL's high quality to professional manufacturers from home and abroad though the fiber, yarn, fabric, home textile and non-woven products under the brand of G-FIBER. The high quality end products of lyocell have gained full popularity.
  The exhibition area of this year's Yarn Fair reached 26,500 ㎡. 419 high-quality fiber yarn companies from 6 countries and regions including China mainland, China Hongkong, Pakistan, India, the United States and Vietnam participated in the exhibition. 407 domestic exhibitors are included, which was the same as the number of the previous session.
  (Many guests stopped at the CTACELL Pavilion during exhibition.)
  On the morning of 23rd, GAO Yong, Secretary of the Party Committee, WANG Tiankai, former chairman, CHEN Weikang, deputy secretary of the Party Committee, LI Linshen, vice chairman, YANG Donahue, former vice chairman, DUAN Hong, office director of the CNTAC, together with LIANG Pengcheng,the executive deputy of the CCPIT Textile Branch , GU Ping, chairman of the China Textile Machinery Association, ZHENG Junlin, vice chairman of China Chemical Fiber Association came to the pavilion of CTACELL to learn more about the exhibition. JIANG Juneau, general manager and deputy secretary of the Party committee of China Textile Academy gave a detailed introduction.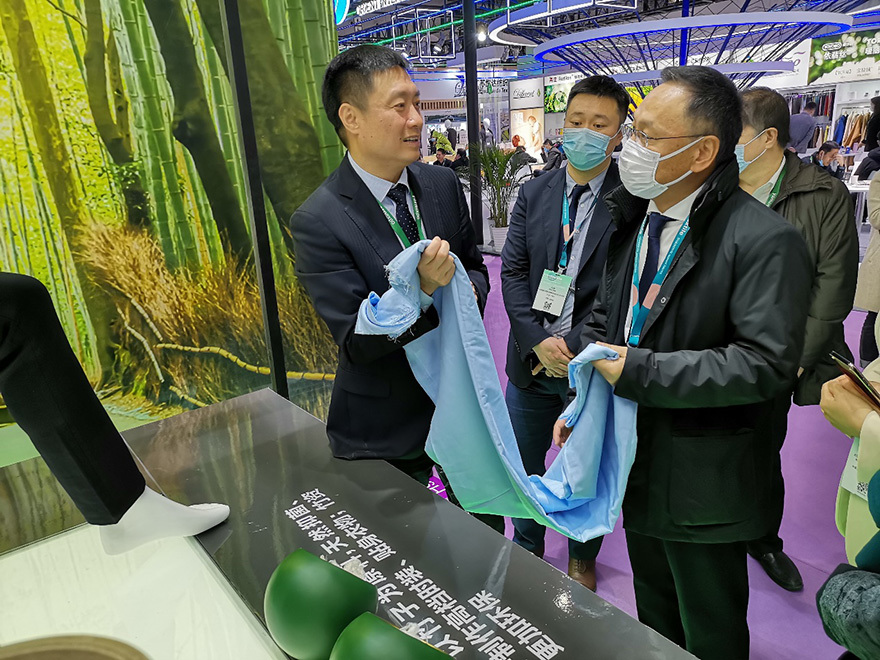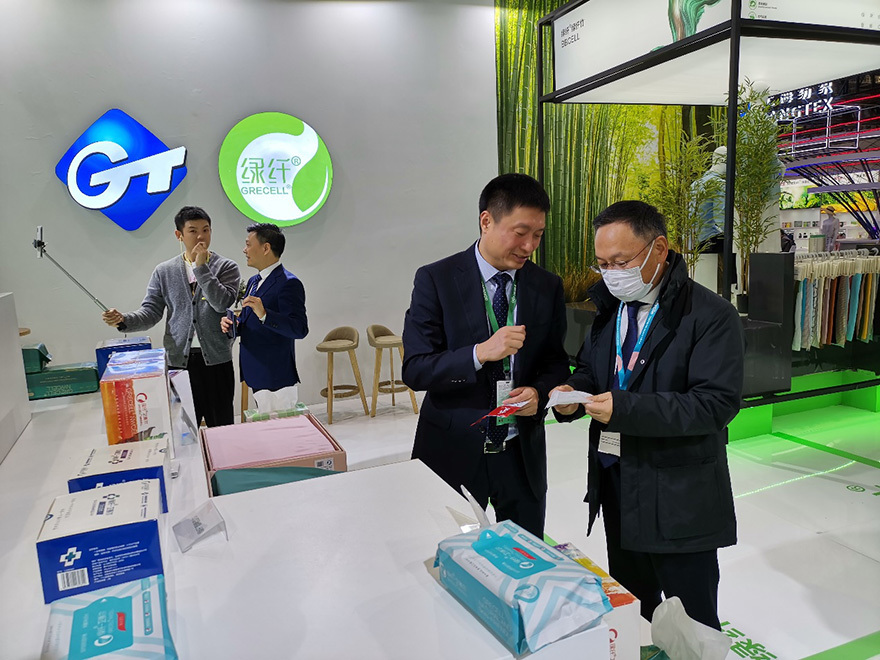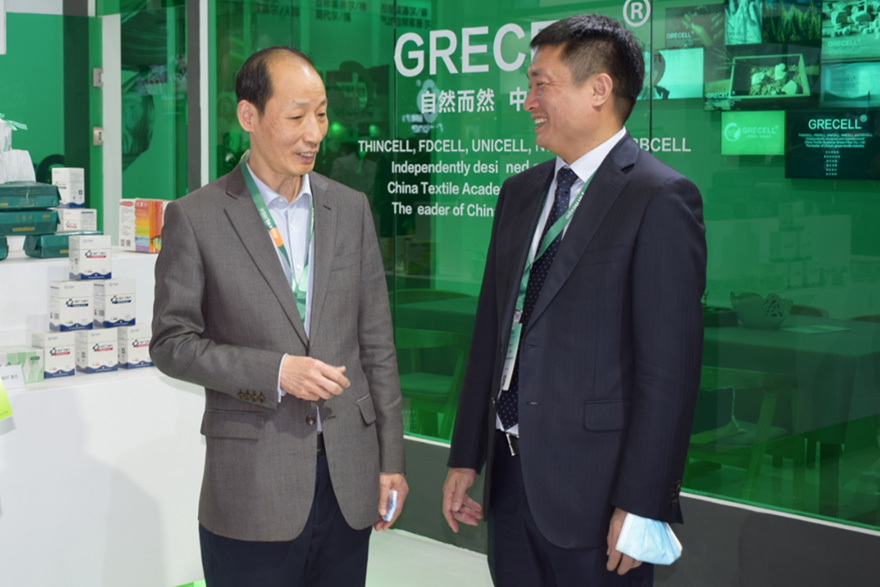 (JIANG Juneau, general manager and deputy secretary of the Party committee of China Textile Academy is giving an introduction.)
  Jiang Junhua introduced many excellent properties of G-FIBER®. It's comfortable, soft, strong, shiny, smooth to the touch and does not shrink. It can be used in all aspects of life such as clothing, home textiles and facial masks, and has a broad development spac (G-FIBER's wet wipes and soft towels product booth )
  At the exhibition site, CENERTEC·CTACELL gave the audience a deep understanding of G-FIBER®. It is not just a fiber brand, but also a "super brand" covering all aspects of life. It's end products currently includes in many categories such as home textiles, apparel, wet wipes, soft towels, etc. In the future, it will involve more fashionable and healthy life fields. CTACELLcommitted to bringing the faithful protection of healthy fiber and a better life to consumers across the country and the world.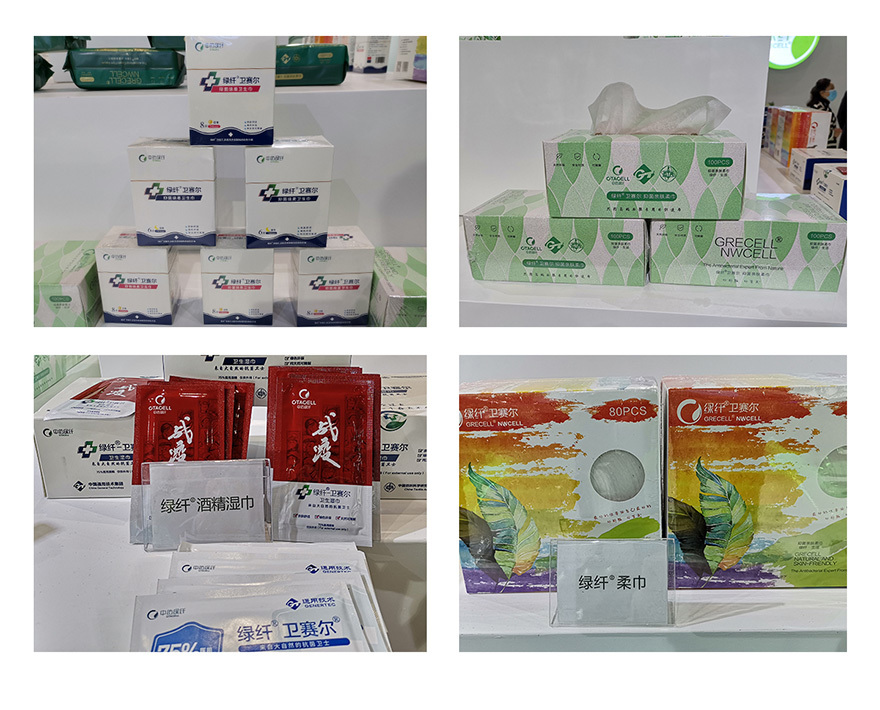 (G-FIBER® is taken from nature. The production process is green and environmentally friendly, and products can be completely degraded after being discarded.)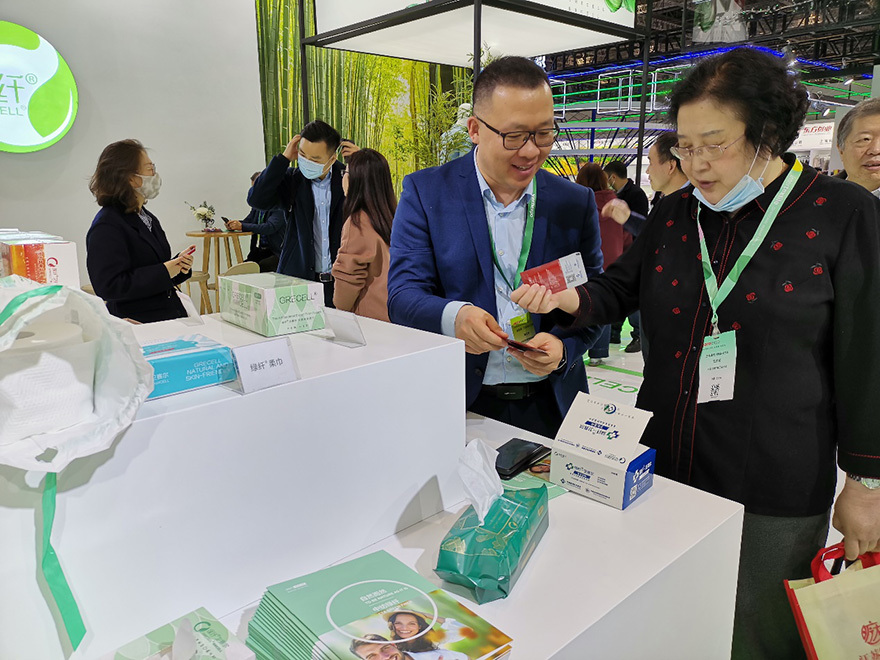 (Staff explain the excellent properties of G-FIBER® fiber to customers.)
  Realizing the harmonious coexistence of man and nature is a problem that the textile and apparel industry has been thinking about. As the source of the industry chain, the green environmental protection innovation of fiber will provide important support for the sustainable development of the entire industry.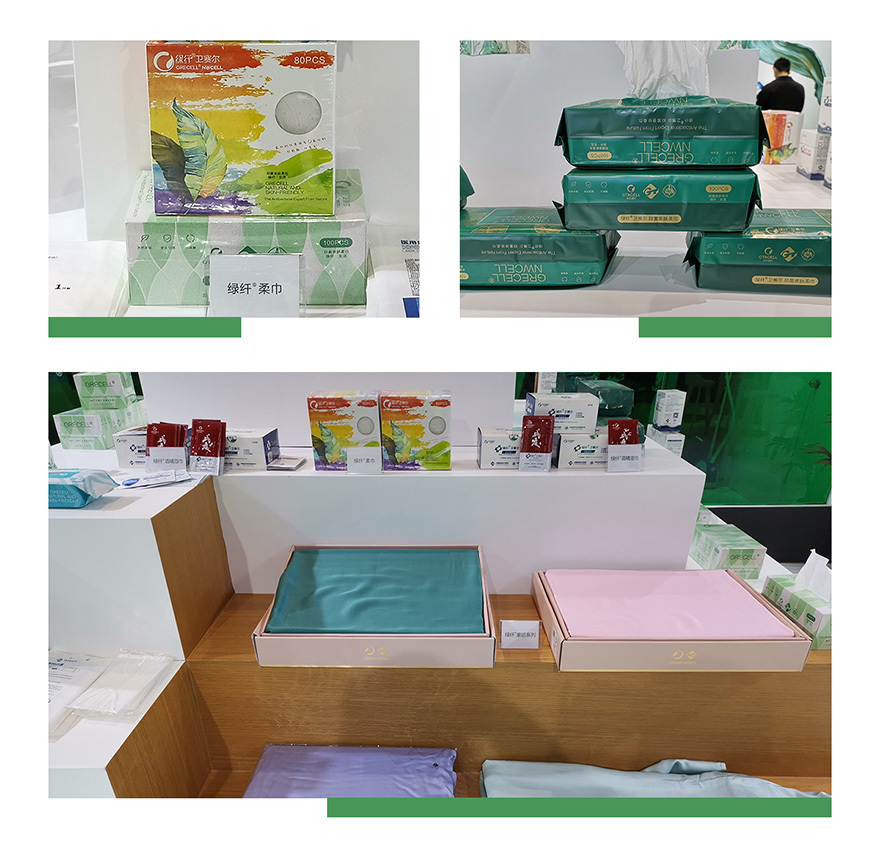 ( G-FIBER® home textile four-piece suit.)
  With the continuous improvement of the quality of life, people's high pursuit of skin-friendly, comfortable, bright and smooth textiles for daily use has become more prominent. 绿纤 can meet people's needs for a better life. Through continuous innovation, it can create technical, fashion and sustainable beautiful life for consumers.